News
Rapper T.I. and wife Tiny welcome daughter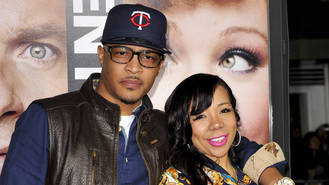 Rapper T.I. and his wife Tameka 'Tiny' Cottle have welcomed a new daughter.
Tameka gave birth to a baby girl on Saturday (26Mar16), and the Whatever You Like star took to social media to announce the happy news.
However, he also expressed his disappointment about missing the birth, which leaked online before the proud parents could reveal the arrival themselves.
"What really p**ses me off is that I'm in South Carolina & my wife just had our baby in Georgia which is really not something anybody could help & the fact that everybody gets to announce that 'T.I. & Tiny welcomed their baby into the world' EXCEPT T.I. & Tiny," he wrote on Facebook.com. "Couldn't even wait until we properly announced it but #Lucky7 is here!"
The couple, which wed in 2010, already has two sons together, King and Major, while Tiny gave birth to a stillborn daughter, named Leyah, in 2007.
T.I. also has three children from previous relationships, while Tiny is mum to another girl from a past romance.
The couple has yet to release details about the baby's name.
T.I. has previously spoken about how much being a good father means to him.
"I feel like fatherhood is the one thing that you will love and you will never master," he explained to Noisey. "You can do it every day of your life, work at it, and be completely committed to it, invested in it, and passionate about it. But you can never master it because it's constantly changing.
"You have to always reboot, update your systems, and really just remain acclimated and up to speed with the goings on. And then if you have multiple children, well, sheesh, you must be a certain type of father to this one, a different type of father to this one because they have different strengths and different weaknesses, different ambitions, different applications of skills."
Source: www.msn.com
Added automatically
681 views