News
Iggy Azalea urges Wilmer Valderrama to ask Demi Lovato to marry him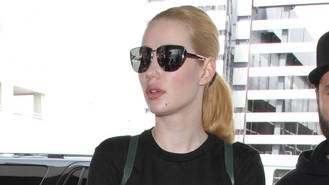 Iggy Azalea has urged Wilmer Valderrama to "put a ring" on her best pal Demi Lovato's finger or risk losing a "bomb" wife.
The Australian rapper, who recently postponed her 2016 wedding to basketball star Nick Young because she's too busy, is hoping Wilmer will step up and ask his longtime love to marry him, so she and Demi can plan their weddings together.
"She needs to get engaged," Iggy told AMP Radio. "Wilmer needs to get on it.
"He's slippin'. Have you seen Demi? She's bomb. I don't know what he's waiting for... Listen, you better buy Demi a ring. I want to be engaged together."
The 25-year-old rapper became fast friends with Demi in 2014 and after Nick proposed to Iggy last year (15), the Heart Attack singer was among the first people to find out, with the Fancy hitmaker asking her pal to be a big part of the wedding party.
Demi even initially offered to plan her friend's bachelorette party.
Asked what a night out with Lovato is like, Iggy told the radio network, "She lives down the street from me (and) when it is 10 at night, we are able to be like, 'Just come over and watch TV'... I saw her a couple of days ago, and we watched Murder Rap, the Biggie and Tupac murder documentary. She fell asleep, and I was going to take a video of her and expose her."
Demi isn't the only star in Iggy's inner circle - she can also call on favours and advice from mentor T.I., adding, "I know I can call him for anything I want and he can make it happen. We are good. We've always been good."
Iggy is also close to Kesha, stating, "We keep saying we are going to have a lady date together and go ride my two horses. She likes horses."
Source: www.msn.com
Added automatically
670 views