News
Taylor Swift helps to open children's hospital studio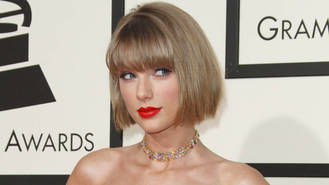 Taylor Swift surprised sick fans on Friday (18Mar16) by helping to open a new children's hospital studio in Nashville, Tennessee.
The Blank Space singer joined U.S. radio and TV presenter Ryan Seacrest to launch his foundation's new state-of-the art media centre for kids at the Monroe Carell Jr. Children's Hospital at Vanderbilt, and the youngsters couldn't contain their excitement at the appearance of the pop superstar.
Taylor made the event all the more thrilling by heading into Seacrest Studios to christen the space with a first celebrity interview.
"It was thrilling to have Taylor surprise the patients, which made the day of our first broadcast at Vanderbilt even more special," Ryan told People.com. "She infused so much joy into the entire hospital community."
The children showed their appreciation for the star's visit by staging a performance for Taylor, who happily signed autographs, posed for photos, and gifted patients with bags of merchandise.
The multi-media hospital centre, which enables sick kids to test their radio, TV and new media skills as part of their healing process, is the 10th such facility the American Idol host has unveiled via his Ryan Seacrest Foundation in recent years, during which he has invited the likes of Miley Cyrus, Justin Bieber, Nick Jonas, and Selena Gomez to surprise ailing fans.
Taylor's appearance came just days after she returned from a romantic beach getaway with boyfriend Calvin Harris. The couple recently celebrated its one year anniversary and the stars decided to mark the milestone by heading off to an undisclosed tropical paradise.
Both stars took to their respective Instagram accounts on Tuesday (15Mar16) to share intimate images from their holiday, including a photo featuring a bikini-clad Taylor posing for her beau, who showed off his toned body in a pair of red swimming trunks in other pictures.
The pop star also posted a short video of her jumping on a large, inflatable, floating trampoline in the water, and in the clip, she can be heard telling Calvin, "Watch, watch - are you watching?", before taking a not-so-graceful dive into the water, much to her boyfriend's amusement. "It hurt a lot!" Taylor laughed in the video, which she captioned, "That time when we finally took a vacation."
Source: www.msn.com
Added automatically
695 views