News
Orlando Bloom 'nervous about meeting Katy Perry's parents'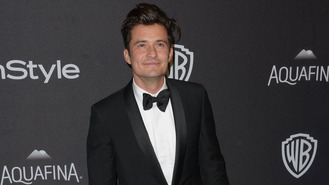 Orlando Bloom is reportedly "terrified" of meeting new girlfriend Katy Perry's parents.
The Lord of the Rings star has apparently admitted to being nervous about meeting her religious parents - especially after they were glad to see the back of her ex-husband Russell Brand.
Orlando has been linked to singer Katy since January (16), when they partied together after the 2016 Golden Globes. They have since holidayed together in Hawaii (Feb16) and enjoyed a mini-vacation in London where she met Orlando's family.
As things get more serious between the celebrity couple, a meet the parents moment is looming but Orlando is said to be stalling.
"Orlando doesn't seem that keen on meeting Katy's mum and Dad. Katy's parents are a huge part of her life, and it's causing tension because she can't understand why it's a problem," a source told Britain's Heat magazine.
Understandably, Orlando's reluctance is put down to plain nerves.
"Orlando might seem confident on the surface, but he's terrified of making a bad impression," the insider added.
Another reason might be their differing spiritual beliefs. Orlando is laidback and reportedly deeply into Buddhism, whereas Katy's parents are famously known to be devout Baptists.
After her split from Russell Brand in 2012, Katy claimed her parents were overjoyed and "thank God every day for my divorce."
What's even more awkward for Orlando is that Katy has already met his mother Sonia and sister Samantha during a trip to London.
"They only had a short time together, but Katy loved meeting them," says the insider.
The Alien singer met her beau's family and friends recently on a trip to the UK that also included a pub date at the Stag and Huntsman in Buckinghamshire, reports Britain's The Mirror newspaper.
The couple then enjoyed some time together enjoying the English countryside.
"They flew private jet with Orlando's friends from London to another part of England and then drove all over the place for a week," a source tells People.com.
Source: www.msn.com
Added automatically
669 views