News
Miley Cyrus ditches wild ways for Liam Hemsworth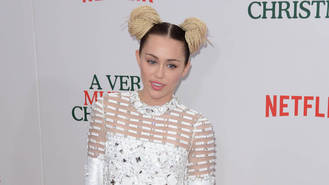 Singer Miley Cyrus has reportedly transformed her wild ways to focus her efforts on her rekindled relationship with Liam Hemsworth.
The Wrecking Ball singer is believed to have reunited with her former fiance over Christmas (15), after spending time with the actor and his family in his native Australia.
The couple was recently rumoured to have moved in together, and it has now been alleged the 23-year-old is determined to make sure her relationship with Liam, 26, goes the distance the second-time around by ditching her outrageous antics.
"For the past few weeks, they have lived a very secluded life," a source told People magazine. "When they are not working, they rarely leave home. They often have people over for dinner, and Miley has gone from a wild child to a housewife."
The couple called off its engagement in September, 2013 after three years together, but the insider claims Miley "is doing everything to please and make Liam happy" since reuniting.
"Liam couldn't handle when Miley acted nutty," the source continued of their past relationship. "Miley's problem was that she thought Liam was boring when he complained. (Now she is) toning things down and acting more normal. She even stopped hanging out with friends that are too wild. She is very focused on making things work with Liam."
However, her new attitude didn't stop the singer from going shopping in a fishnet tank top and no bra while out and about with her mother Tish in New York on 1 March (15).
Miley has spoken openly in the past about her wild antics and body-baring outfits, and during an interview with the American edition of Marie Claire last August (15), she questioned why she was seen as a poor role model because of her clothing choices when peers like Taylor Swift can make videos like the violent Bad Blood and still be seen in a positive light.
"I don't get the violence revenge thing, that's supposed to be a good example?" she queried. "And I'm a bad role model because I'm running around with my t**ties out? I'm not sure how t**ties are worse than guns."
Source: www.msn.com
Added by AutoAdmin
428 views