News
Adele vows to refund fans fleeced by ticket touts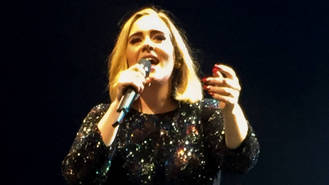 Adele has vowed to refund any fans who spent thousands buying tickets from touts for her sell-out tour.
The 27-year-old singer caused pandemonium when tickets for her Adele Live 2016 tour went on sale earlier this year (16). While some lucky fans got their hands on tickets to see the lady herself in action, touts also snapped some up - with reports of pairs of tickets being sold for a staggering £25,000 ($35,625).
As she performed at London's O2 Arena on Wednesday night (16Mar16), Adele told the audience she was disgusted by touts taking advantage of her fans' devotion.
So much so that Adele promised to refund anybody who dropped the incredible amount on tickets for her show.
"You've got all those terrible people selling tickets for £25,000 a pair," she said. "I hope no one paid that much. If you did I'll pay you back."
The Hello singer also told her fans during the show that she is doing her utmost to stay healthy on her nine-month worldwide tour, by keeping herself in isolation.
After having surgery in 2011 following a vocal haemorrhage, Adele has decided not to take any chances on the road.
"I've basically been in isolation because I don't want to get ill. I didn't want to take a chance with my voice," she said. "I've been taking echinacea four times a day. I've been on the Beroccas (energy supplement). I'm on a really strict regime. Basically, I'm living on leaves but I do get to eat pasta before the show because it gives me energy for when I get on stage."
However, her healthy living regime - which also saw her cut out alcohol - has had an unfortunate effect.
"I've got acne. I know we all get spots but you lot ain't got your face on a big screen like that!" she laughed. "Imagine trying to pop a spot with these nails – you'll do more damage."
Source: www.msn.com
Added by AutoAdmin
522 views