News
Mariah Carey 'to shoot docu-series'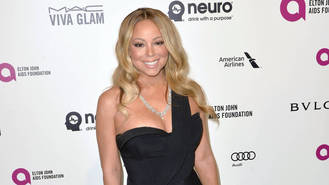 Mariah Carey has reportedly agreed to star in a new reality show.
The singer is currently filming a documentary-style series to allow her fans to go behind the scenes of her Las Vegas residency, reports UsWeekly. The show will also follow Mariah on her world tour, which is due to end in May (16).
"It's nuts, she is very funny on camera," an insider told the magazine.
According to the report, the show will be called Mariah's Squad and will give music fans a real insight into her life as one of the biggest music stars in the world. It seems Mariah's manager has experience as a reality TV producer, so setting up the project was straightforward. A date for the series to air is yet to be revealed.
If the rumours are true it seems Mariah has had a real change of heart. Just last year (15), the 45-year-old star admitted she wouldn't feel comfortable appearing in a reality show, adding she wasn't a fan of people who just crave the limelight.
"Some people's goal is to be famous, not to have a craft or an art that they're famous for. Today, you can be famous just from being on a reality…well, doing… you don't really have to do much, but you kinda gotta do a lot," she told a reporter during a press event in Israel. "And then your whole life is just about being a celebrity.
"I couldn't handle being on a reality show, I couldn't handle having people with cameras on me all the time. It's already like that, it's too much."
This isn't the first time Mariah has been linked to a TV project in recent months, as earlier this year (January 16), bosses from the hit series Empire denied claims the superstar singer would be appearing on the show.
Source: www.msn.com
Added automatically
660 views