News
Paul McCartney leads tributes 'second father' George Martin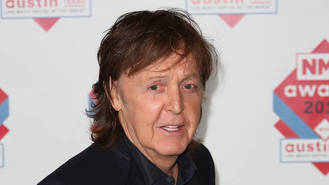 Sir Paul McCartney has paid an emotional tribute to legendary producer Sir George Martin.
The 73-year-old musician worked closely with Martin during his time in The Beatles, with the musical director even earning the nickname the 'Fifth Beatle' due to his work with the band.
Following the tragic news that Martin died at home on Tuesday (08Mar16) aged 90, McCartney penned a lengthy tribute to him on his official website.
"I'm so sad to hear the news of the passing of dear George Martin. I have so many wonderful memories of this great man that will be with me forever," he wrote. "He was a true gentleman and like a second father to me. He guided the career of The Beatles with such skill and good humour that he became a true friend to me and my family. If anyone earned the title of the fifth Beatle it was George. From the day that he gave The Beatles our first recording contract, to the last time I saw him, he was the most generous, intelligent and musical person I've ever had the pleasure to know."
Recalling one of his favourite memories of Martin, McCartney said he was unsure about the producer's suggestion to include a string quartet on iconic Beatles track Yesterday. But after making it into the recording studio and hearing the finished product, McCartney knew he was in the wrong.
"I am proud to have known such a fine gentleman with such a keen sense of humour, who had the ability to poke fun at himself," he continued. "Even when he was Knighted by the Queen there was never the slightest trace of snobbery about him. My family and I, to whom he was a dear friend, will miss him greatly and send our love to his wife Judy and their kids Giles and Lucy, and the grandkids.
"The world has lost a truly great man who left an indelible mark on my soul and the history of British music. God bless you George and all who sail in you!"
The Beatles drummer Ringo Starr also paid his own tribute to Martin, writing on his Twitter page: "God bless George Martin peace and love to Judy and his family love Ringo and Barbara, George will be missed xxx"
Lenny Kravitz referenced the spate of deaths in the music industry over recent months - David Bowie, Maurice White from Earth, Wind & Fire and Glenn Frey of the Eagles - with his message: "The legends are really going home! Visionary producer of #TheBeatles, George Martin (1926-2016)."
Producer Mark Ronson wrote: "Thank you Sir George Martin: the greatest British record producer of all time. We will never stop living in the world you helped create."
Source: www.msn.com
Added automatically
669 views