News
Fetty Wap makes young fan proud to have one eye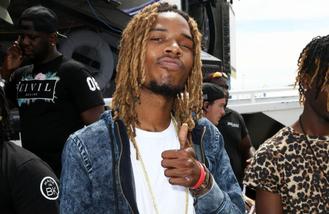 Fetty Wap has given an 11-year-old fan courage to go to school without his own glass eye.
The rapper, who lost his eye as a young boy, met up with superfan Jayden Burgos, who wore a prosthetic eye for years after losing his real eye to retinoblastoma two weeks after his first birthday
But when he met Fetty at the star's Denver gig last month during his Monster Outbreak Energy Tour, he realised the 'Trap Queen' hitmaker was also missing an eye and decided to go to school without it.
Fetty, 24, told PEOPLE: "I'm happy I got to meet Jayden and his family. He is a really cool kid! It meant a lot to me personally to finally make his wish happen. It's definitely a day we'll both remember!"
Jayden and his parents never considered the option of going out without his prosthetic eye.
But Jayden's mum Brenda is delighted her son has taken the plunge.
She said: "Upon seeing Fetty Wap's eye, Jayden was immediately taken aback. At first he didn't say much, but then we would overhear him talking to family members and friends about this rapper Fetty Wap who, like him, was missing an eye, and how he thought it was really cool.
"The day he decided to go without his prosthesis he experienced some discomfort and called us a couple times from school...he said he would tough it out. He said 'The kids are calling me Fetty,' with the biggest smile on his face.
"If it hadn't been for Fetty Wap having the courage to be himself, Jayden would not have had the courage to go without his prosthesis....Fetty Wap inspired him in a way we were not able to - as much as we have tried to instill confidence in him, we don't know what it's like to face the world with only one eye."
Source: www.msn.com
Added by AutoAdmin
396 views