News
Snoop Dogg's son rejoining college football team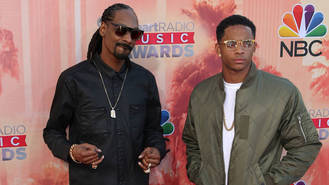 Snoop Dogg's son Cordell Broadus has rejoined the University of California, Los Angeles (UCLA) football team.
Sports star Broadus was one of the top high school wide receivers in the U.S., and in February (15), he revealed he had chosen to stay in his native Los Angeles and accept an offer to play football for the UCLA Bruins.
However, the youngster was missing from the first week of training camp in August (15), and it was subsequently announced he left to "pursue other passions... in particular his love of film through his company Film School Productions".
He has since been given permission to rejoin the team as a "walk-on" member later this month (Mar16).
"Cordell spoke with Coach Mora, indicating he missed the game and wanted to earn his way back on the team as a walk-on," Associate Athletic Director Josh Rupprecht tells TMZ.com. "He will indeed be participating in Spring practice, which begins later this month on March 29, as a walk-on."
Snoop Dogg has been very active on the football scene and in 2005, he created the Snoop Youth Football League for underprivileged kids.
And the cannabis aficionado previously revealed he abstains from smoking weed for a few months every year due to his commitment to the sport.
"I stopped about 11 years ago for 180 days when I started my youth football league," he recalled during the premiere episode of Khloe Kardashian's Kocktails with Khloe talk show on Wednesday (20Jan16). "I was coaching football and I went to practice high one day. One of the kids said, 'Coach, you smell like my momma's boyfriend.' I had to check myself and I stopped smoking from that day for 180 days straight and it made me a better coach, a better person."
Source: www.msn.com
Added automatically
708 views