News
Sam Smith despises Money On My Mind song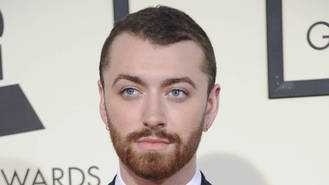 Soul superstar Sam Smith is not a fan of his own track Money On My Mind.
The British singer is working on the follow-up to his hugely successful debut, In The Lonely Hour, but he admits he has some regrets about one song choice on the Grammy-winning 2014 release.
"There's a few songs I really hate, but then the core of the album, songs like Stay With Me, I'm Not The Only One - actually all the songs except Money On My Mind - I really love and I'm really proud of the classic-ness of the way they sound, because I still listen to them now and I still love them," he told Billboard.com.
Sam reveals he is moving in a slightly different direction for his new material, but he promises his tunes will still be an emotional rollercoaster for fans because he's putting his heart and soul into the writing and recording process.
"The music I'm making at the moment, it's very much a beautiful little transition from there and it fits," he said. "It's great. It's really deep (stuff) that's coming out - that's all I'll say."
"Every day I'm having little epiphanies and changes and loving it," he continued. "But all I can say is that I'm putting my heart even more out on the line. I'm going even deeper. I can't believe I'm even doing it, but I'm going even deeper."
Meanwhile, Sam claims his sound could have been totally different had his label bosses had their way after the initial success of his Latch collaboration with British dance stars Disclosure.
"As soon as Latch had a lot of success in the U.K., my label and me had a little bit of a panic," he confessed. "We were like, 'Maybe we should be doing dance?' And that's what I can hear on (my first) album - there's two or three songs where I can hear the little wobble, but the rest of the album is what I set out to make from the beginning."
Sam is continuing to achieve huge musical success after taking home the Best Original Song Oscar for his Spectre theme tune, Writing's on the Wall, at Sunday's (28Feb16) Academy Awards.
Source: www.msn.com
Added automatically
662 views