News
George Shelley dropped from Union J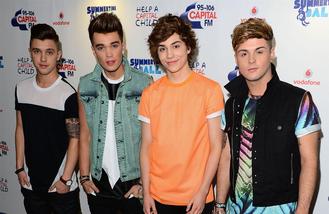 George Shelley has been dropped by Union J.
The hunky pop star has frustrated bandmates Josh Cuthbert, J.J. Hamblett and Jaymi Hemsley with his apparent lack of commitment to the group since he appeared on reality TV show 'I'm A Celebrity... Get Me Out Of Here!' last November, so he was given an ultimatum via email.
Josh said: "I wrote a really strong email. We basically gave him an ultimatum. It was, 'You're either in the band or you're not'.
"George was in a position where he did the jungle, he came off it and his head space was different to ours.
"Using a sporting analogy, he wanted to turn up to the big matches but not turn up to training.
"I would much rather have someone who wants to do it and is committed to do it. I'm not going to lose any sleep over him not being in the band."
Jaymi admitted he was "absolutely devastated" by what has happened but slammed his former bandmate for his apathetic attitude and negativity, which he say "ruined" their work.
He told The Sun newspaper: "It's heartbreaking. I spoke to him the other day and I said I'm heartbroken over this. I am absolutely devastated. This is taking up all my time and affecting my home life.
"It brings us down. When you turn up to something and the other person can't be there, or they are turning up late. That makes you not love the project. One negative view can ruin it for everyone.
"I am bitter about things that have happened. He wasn't putting his the full effort in. One member is not bigger than the band and we feel that there should be no member who is bigger than the project."
The 'Carry You' group are now on the hunt for a replacement for George - who was added to the band, originally named Triple J, during the Judges' Houses stage of 'The X Factor' in 2012 - and hope to unveil them during the next few weeks.
Source: www.msn.com
Added automatically
666 views