News
Metallica's Lars Ulrich surprised by speed in making Master of Puppets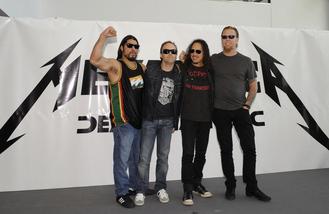 Metallica's Lars Ulrich cannot fathom how the band made 'Master of Puppets' in eight weeks.
The 52-year-old drummer has reflected on how quickly the heavy metallers produced their third studio LP and admitted these days, the band can barely get to their recording studio in that amount of time, let alone make a record.
He said: "There's a spark or spontaneity or impulsiveness that happens when you're in your twenties. We wrote 'Master of Puppets' in probably eight weeks over that summer. "Nowadays, it takes me eight weeks just to drive own to the studio. It's like, 'What the f**k did we do in the summer of '85 where we could just give birth to that from the first note to the last note in eight weeks?'"
Lars - who has been the band's sticksman since 1980 - explained how their most-recent efforts compared to previous records.
He told Rolling Stone magazine: "'Death Magnetic' took us probably 18 months from when we started writing to when we started recording.
"On this current record, it probably took us about nine months. How the f**k do you write a record like 'Master of Puppets' in eight weeks?"
Source: www.msn.com
Added automatically
679 views