News
Vanilla Ice headlines I Love the 90s Tour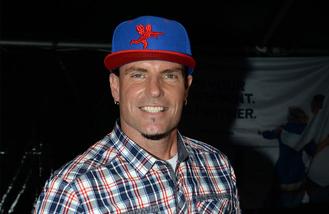 Vanilla Ice has been announced as the headliner for the 'I Love the 90s Tour'.
The 48-year-old rapper, best known for his 1991 super-hit 'Ice Ice Baby', will be giving fans a sense of nostalgia alongside other popular acts from the period including, Salt-N-Pepa ,Coolio, Kid 'N Play and Kool Moe Dee - who appeared on Macklemore's 2015 single 'Downtown'.
Cheryl 'Salt' James of Salt-N-Pepa has revealed their set will include "all the classics" and will be one massive "90s party".
Asked what to expect from the 'Let's Talk About Sex' hitmakers' set, she told USA Today newspaper: "Obviously all the classics. The show is very interactive. When we do 'Whatta Man', we pull a bunch of guys on stage and have fun with them. During (Spinderella's) DJ set, we celebrate girl power and bring a bunch of girls onstage and party with them. We do some album cuts that everybody might not know, but we say in the beginning of our show, 'This is not a show, this is a Salt-N-Pepa experience.' We say that because, back in the day, performing felt more like, 'We are here to entertain you.' But now it feels like we are hanging out with friends and we don't feel pressure to put on a show. We just have fun with the crowd and the crowd has fun with us."
"It feels like you're taking people back to a time in their lives that they really enjoyed. It's just one big 90s party."
The 'I Love the 90s Tour' dates will tour across the US with 30 dates in total, starting at the Bon Secour Wellness Arena in Greenville on April 15 and concluding at the Salem Civic Center on October 20.
Source: www.msn.com
Added automatically
733 views