News
Kanye West 'offers artist cash to remove mural'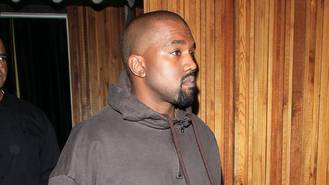 Kanye West's management has reportedly offered an artist a "chunk of money" to paint over a controversial mural of the rapper.
Australian artist Scott Marsh completed a large scale artwork which depicts Kanye passionately kissing himself on a whitewashed wall in the quiet Teggs Lane of Chippendale in Sydney's inner west earlier this month (Mar16).
The image shows one version of Kanye wearing a grey dress decorated with flowers embracing another Kanye who is sporting a black suit with his hands gripping the other's buttocks.
It is an interpretation of an Internet meme that circulated after Kanye and his wife Kim Kardashian were photographed kissing on the red carpet at last year's Grammy Awards (15).
Now, it seems that the 38-year-old isn't too impressed with the looming portrait and reportedly wants Scott to paint over it.
Scott alleges that he has been contacted by someone claiming to be from the American hip hop artist's management offering him a "pretty decent chunk of money" to wipe-out the image.
In return, Scott requested a six-figure payment and a lifetime supply of Kanye's signature brand of Yeezy sneakers.
"I'm offering an oversized print which has been painted over for $US100,000 (£69,000)," Scott told ABC Sydney Radio on Wednesday (30Mar16).
"It's an open invitation to Kanye. If he buys that print then I'll paint over the mural."
Scott also admitted he was not convinced that the email from Kanye's management was genuine.
But he posted an image of the mural on Instagram alongside the hashtag kanyeloveskanye, noting: "Because we all know that Kanye Loves Kanye".
The image of Kanye has made international headlines and was designed to sit opposite a large mural by a different artist which shows his reality television star wife naked.
However, the image of Kim, 35, may be short-lived as well, after the City of Sydney Council ordered the owner of the adjoining bar to remove it following a complaint from a neighbour.
Source: www.msn.com
Added automatically
802 views