News
John Legend: 'Having a baby can't be that hard!'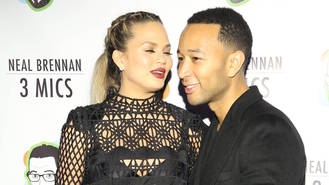 John Legend is going into fatherhood with his "eyes and arms open".
The 37-year-old singer is preparing to become a first time parent as wife Chrissy Teigen nears her due date. The couple is expecting a daughter, but John insists he's more excited than daunted by the prospect of having a child.
"I'm not nervous because I don't really know… I'm just going into it with my eyes open and my arms open and I'm ready," John said during an interview on Jimmy Kimmel Live on Monday night (07Mar16). "I figure people have been having kids for a really, really long time so it can't be that ridiculously hard. I know it's going to be challenging in its own way but I figure we can figure it out."
All Of Me singer John and his model wife Chrissy struggled to get pregnant for many months before eventually conceiving. John added it was after his mother-in-law Vilailuck gave the pair a gift that they found out they were expecting.
"(Chrissy's mom) has some superstitions," he said. "She grew up in a village in Thailand and she has some superstitions. She has her own customs. Chrissy swears that her mom is just making up these traditions. She gave us a necklace to wear, like a fertility necklace to wear as we were trying to have a baby for quite a while, it took us a while to have it. She gave us a fertility necklace and we got pregnant not long after that. But we had a lot of doctor help as well though. So either the necklace, the doctor or both worked!"
Luckily, John and Chrissy have a host of friends who are new parents themselves that they can turn to for baby advice. One such couple is Kim Kardashian and Kanye West, who John said kindly took them shopping recently.
"We got advice from a lot of recent parents," he said. "We got advice from everybody but Kim and Kanye took us shopping. They took us to the store and she just showed Chrissy everything a mom would need at this time."
Source: www.msn.com
Added by AutoAdmin
343 views