News
Taylor Swift falls on her face in new Apple Music advertisement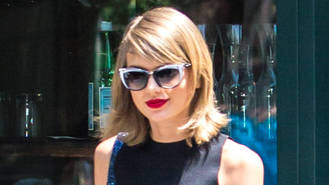 Taylor Swift fell flat on her face trying to rap along to Drake in a hilarious new advertisement for Apple Music.
The Shake It Off hitmaker debuted her commercial on social media on Friday (01Apr16), April Fools' Day.
The funny footage begins with the 26-year-old putting on her headphones as she prepares for a workout session.
"Man, I hate cardio," Taylor can be heard complaining. She then uses the Apple Music app on her iPhone and locates a playlist called "#Gymflow", designed specifically for exercising, and selects Drake and Future's Jumpman collaboration.
Taylor starts running as she animatedly raps the lyrics to the track, only to lose her footing and fall face down on the treadmill, ending up in a heap on the floor.
The commercial ends with the words "Distractingly good" popping up on the screen, followed by the Apple Music logo.
"Based on true events," the pop superstar joked as she also shared the link on Twitter. She added the hashtag, "#TAYLORvsTREADMILL".
The new ad emerges less than a year after Taylor took Apple Music bosses to task in an open letter, accusing them of failing to offer artists royalties during a planned three-month free streaming trial for subscribers. Apple chiefs subsequently backed down and agreed they had made an error of judgment, and promised to start paying artists for their work.
Their prompt response and swift course of action prompted Taylor to grant Apple Music officials permission to stream her 1989 album on their streaming service, which launched in late June (15).
"After the events of this week, I've decided to put 1989 on Apple Music... and happily so," she wrote on Twitter at the time. "In case you're wondering if this is some exclusive deal, like you've seen Apple do with other artists, it's not. This is simply the first time it's felt right in my gut to stream my album. Thank you, Apple, for your change of heart."
Taylor then teamed up with Apple Music officials for her The 1989 World Tour Live concert film, which was released in December (15).
Source: www.msn.com
Added automatically
686 views