News
Lars Ulrich marvels at Keith Richards' stamina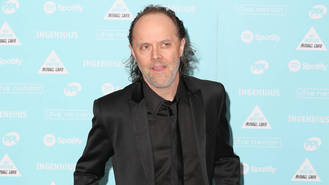 Metallica star Lars Ulrich is convinced Rolling Stones guitarist Keith Richards will "outlive us all".
The 52-year-old drummer appeared on Thursday's (31Mar16) episode of Craig Ferguson's History Channel show Join or Die, where he mused about the world's most influential band and when Rolling Stones legend Keith was mentioned in the conversation, Lars and fellow guest, journalist Alan Light were quick to dub him the most resilient musician in modern history.
"(He) will outlive us all," Lars joked of the 72-year-old Gimme Shelter hitmaker. "He will be the last person standing."
Echoing his co-panellist's observation, Alan noted: "Keith Richards is actually the same DNA as roaches - he will survive the apocalypse."
Keith, who has battled drug addiction throughout his career and almost died from an overdose during his heyday, kicked his heroin habit in the 1980s, but confessed to using cocaine until 2006 and remains an avid fan of marijuana.
"I smoke regularly, an early morning joint. Strictly Californian," Keith shared during a 2015 interview with MOJO magazine. "One of the most pleasant things to watch is a map of America (showing States where cannabis is legal), where it goes, green... green... green. Whether it's a good thing in the long run, I don't know."
Outside of drug use, the rocker most recently escaped death in 2006, when he sustained a head injury after falling from a dead branch while attempting to climb a coconut tree during a vacation in Fiji. Following the scare, he was taken to a New Zealand hospital, where the musician underwent cranial surgery.
Source: www.msn.com
Added automatically
703 views