News
Meghan Trainor sobbed after she gave song to Jennifer Lopez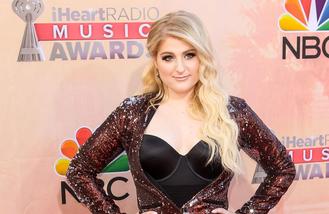 Meghan Trainor cried after she gave Jennifer Lopez one of her songs to record.
The 22-year-old pop star had written too many tracks for her new album 'Thank You' so when she heard that J.Lo was looking for a new track she decided to pitch 'Ain't Your Mama' to her.
The track was chosen as the lead single from J.Lo's upcoming ninth studio album following her return to Epic last month when she signed a multi-album deal with the label she left in 2007 to reunite with her long-time mentor, Epic chairman and CEO L.A. Reid.
But Meghan admits she had regrets about giving away one of her songs - which she describes as her children - to another artist.
In an interview with the Daily Star newspaper, Meghan said: "As soon as I had time off with the last album I wrote straight away as that doesn't feel like work. It's so hard as I wrote so many songs I had to give one away, I hate letting songs go. 'Ain't Your Mama' was one of them. I cried so much as it's like my child.
"I texted Jennifer when shooting my video for 'No' and she said, 'I love this song.' "
Jennifer, 46, performed 'Ain't Your Mama' on the final ever show of 'American Idol' last week wearing a glittery French maid outfit.
Many other singers could benefit from Meghan's writing as she admits her output is prolific.
She added: "I even write songs in the shower."
Source: www.msn.com
Added automatically
739 views