News
Dolly Parton's Coat of Many Colors set for a sequel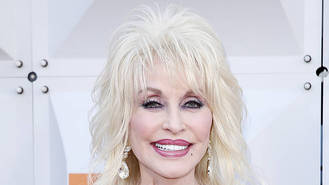 Dolly Parton is bringing back the cast of her record-breaking TV movie Coat of Many Colors for a sequel.
Over 12 million viewers tuned in to watch the biographical tale of Parton's upbringing when it aired in the U.S. in December (15), and now bosses at NBC are keen to make a follow-up.
Dolly Parton's Christmas of Many Colors: Circle of Love will feature Jennifer Nettles and Ricky Schroder as Parton's parents, and little Alyvia Alyn Lind, who will be back to portray the country music icon as a child.
The new film will centre on the family's Christmas traditions and their survival during a blizzard.
Dolly is currently locked into a four-project deal with NBC to turn her song titles into movies.
She's currently developing a film around her song Jolene, about a bank assistant who tried to steal her husband.
"We are going into production with Jolene and if it don't come out this year it'll definitely be next year, because we're gonna go ahead and get it done this year," she recently told Rolling Stone Country. "The script is done, they've already approved all that. That's gonna be one of the movies of the week.
"I signed a four picture deal with NBC so we've got three things in the works. The fourth one we might do a musical special, like a Christmas movie or an Easter special, something with music, musical guests or different people that I'm just hosting."
As for Jolene, Dolly is hoping to turn a well-known actress into a cheap and trashy marriage wrecker.
"Someone once asked me if Jolene is gonna be trashy in the story," she told WENN. "She certainly is! I'm a girl of many colours and my stories are my stories. There certainly will be some redeeming qualities in her but this is about Jolene stealing the husband; she's gonna be an adulteress."
And Dolly has dismissed reports suggesting she'll take on the title role in the project, insisting the character will be played by "some great, beautiful actress" who will be made to look awful in the film.
Once Jolene is done, Dolly will start work on the third movie in her four-film TV deal with NBC bosses in America.
"We're doing a movie on my song The Seeker," she explained. "It's a faith-based story about a Christ-type figure who travels the world trying to find himself, but also having a gift and trying to help people. If that does well as a movie we'd like to make into a series."
Source: www.msn.com
Added automatically
726 views