News
Cyndi Lauper can't get enough of the corset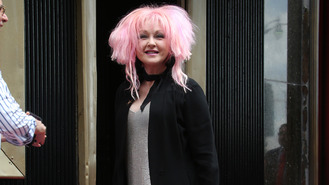 Cyndi Lauper's favourite fashion trend of all time is the corset.
The pink-haired singer became famous in the '80s, an era known for its eccentric, bold style. With her flamboyant outfits, Cyndi fitted in perfectly and she often wishes she could bring the unique looks from that time to today's fashion scene.
"I'd haul colour back from the '80s," she told Hello! Fashion Monthly. "It was a time when I loved mixing different patterns, changing hair colours and layering lots of bracelets.
"I also liked wearing undergarments over clothes instead of under. The corset is my favourite fashion trend of all time. It's not meant to be seen but I loved showcasing it - plus it's functional. I love the red one I wore on the cover of She's So Unusual."
Cyndi was also asked what she would do for a day if money was no object, with many of her answers referring to clothes and beauty. She'd purchase more jewellery from designer Michael Spirito, whose "luxurious" pieces she wears at all times.
The pop icon would also indulge in buying new pieces with a fellow famous name.
"I'd shop with my ultimate fashion icon, Anna Wintour, at Selima Optique in New York for new glasses and at Annick Goutal at Place Vendome Paris for perfume, then head to London for Vivienne Westwood, Alexander McQueen, Dover Street Market and Moschino."
After splurging on designer gear, Cyndi would then relax with a beauty treatment at Tracie Martyn Skin Care Salon in the Big Apple. After having a "red carpet treatment", the 62-year-old musician comes out feeling and looking a decade younger.
To end her dream day, Cyndi would simply kick back on the sofa eating popcorn and watching a movie: "I've spent my life going out, so my perfect night out would actually be a night in."
Source: www.msn.com
Added automatically
693 views