News
Kesha taking back her life after depression battle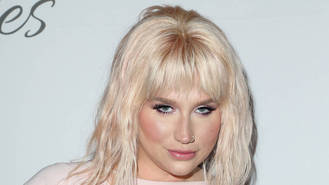 Kesha is planning to bounce back from her legal woes and a bout of depression by taking back her life.
The Tik Tok singer admits her battle for freedom from a contract signed with her producer and mentor Dr. Luke, who she has accused of physically and emotionally abusing her, has taken its toll on her mental health in recent months.
But, following an appearance with DJ Zedd at the Coachella festival in California last month (Apr16) and a performance of Lady Gaga's Til It Happens To You at the Humane Society of the United States Los Angeles Gala earlier this month (May16), the pop star admits she's ready to step back into the spotlight.
In a weekend Instagram post, she wrote: "I have been battling depression and an eating disorder for a while now. My career is in a strange place and it feels like I'm fighting an uphill fight some days. But I have decided to take my life back. My freedom. My happiness. My voice. My worth."
She continued, "I will not just f**king be quiet and hide. Today I will say f**k it and live. Today I'm making that choice. AND IM HAPPY AS A DAMN CLAM."
Kesha also issued a warning to her detractors, particularly body shamers who may feel the urge to mock her look as she stages her comeback.
"And also a big ol f**k u if u wanna hate on my body," she wrote. "Just remember that makes u look like a d**khead."
Meanwhile, Sources close to the singer claim she is planning a performance at next weekend's Billboard Music Awards in Las Vegas.
She clearly hasn't lost her appeal - Kesha received a standing ovation and high praise from Lady Gaga after performing anti-rape anthem Til It Happens To You at the Humane Society bash on 7 May (16).
Gaga tweeted: "Killed it @KeshaRose. I could feel your pain. Girl these boys won't be in charge forever. The wisdom of women is rising. Let's get louder".
The Poker Face singer, who has previously opened up about being raped at the start of her career, has been one of Kesha's most loyal supporters since 2014, when the Tik Tok hitmaker first filed her suit against Dr. Luke. The producer, real name Lukasz Gottwald, has vehemently denied all allegations of sexual abuse.
Source: www.msn.com
Added automatically
657 views