News
Nick Jonas confirms he has dated Lily Collins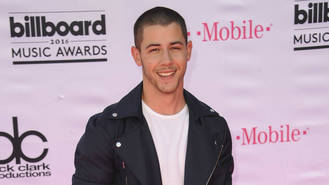 Nick Jonas has confirmed he enjoyed a few dates with actress Lily Collins.
The Jealous singer has been linked to a number of famous ladies since he split from beauty queen Olivia Culpo last year (15), including Kate Hudson and Lily Collins, 27, who he was reportedly dating in February (16).
According to reports, the duo went on a bowling date and went skiing together, and Nick has now revealed they did in fact go on some dates.
"We went out a couple of times. She is amazing," he told Britain's The Sun newspaper, during a stint as guest editor. "We have known each other for years, just running in the same circles.
"I've enjoyed meeting different people and spending time with people with all the cards on the table. All people need human interaction at some level. And at my age too, dating is important, getting to know yourself by meeting different people, seeing what it's all about."
However, it never became serious enough for him to meet Lily's dad Phil Collins, who insisted his daughter was "just friends" with the pop star to Yahoo! in February (16).
"I wouldn't want to do that... I didn't meet him. I am a huge fan. I've been to one of his shows with Genesis at the Hollywood Bowl. It was great," Nick adds.
Nick, 23, has never confirmed if he was dating Kate, 37, but previously said they had "a beautiful connection", and continued to praise the actress to the paper.
"Kate is amazing, she is a great person," he gushed. "You spend five minutes with her and understand who she is and what she's about... She has a beautiful spirit. She is lovely... It has been a year of truly being single but meeting great people and being respectful of them."
Source: www.msn.com
Added by AutoAdmin
575 views