News
Celine Dion focusing on work following husband's death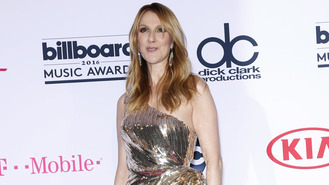 Celine Dion has "thrown herself into work" as she mourns the death of her husband.
The singer lost her manager spouse Rene Angelil in January (16) after he died of throat cancer aged 73. Rene battled three bouts of cancer, which at times forced his wife of 21 years to put her career on hold to care for her spouse.
Despite her heartbreak, the Canadian star says she remains strong and is continuing to work on her new French-speaking album, Encore un Soir.
"I've mostly thrown myself into my work, preparing my French album," she told Britain's Hello! magazine. "Not a question of silence, on the contrary, of over-activity. I was back on stage a month after Rene's death. I wanted to get back up for my children, so they would be able to count on me, on this incredible force inside me."
The couple first met when Celine was just a 12-year-old girl in Montreal. They had three children during their marriage - Rene-Charles, 15, and five-year-old twins Nelson and Eddy.
Celine, 48, said she is "managing" the grieving process and her sons are doing well considering the loss of their father. She notes her twin boys are coping relatively fine because they only saw Rene "rarely" while he was ill, but her elder son Rene-Charles is having a more difficult time.
"He's a good boy, I'm not worried," she shared. "Rene-Charles is shy, reserved. When he was little he hid behind his hair. But he loves everyone, just like his father... My son is very disciplined and my priority is that he continues his studies."
Earlier this week (22May16), the singer performed Queen's The Show Must Go On at the Billboard Music Awards, where she was also honoured with the Billboard Icon Award.
And while she continues to enjoy performing at her residency at The Colosseum at Caesars Palace in Las Vegas, Celine ensures she makes time for herself.
"I come from a big family but I'm also fairly solitary," she explained. "In my relationship with Rene, we each had a place - the business of Rene, the house for me.
For years it was like that. I don't feel lost. I live in my little cocoon with those who I love near me. Rene has left me a legacy of love."
Source: www.msn.com
Added by AutoAdmin
577 views