News
Kevin Jonas would love another daughter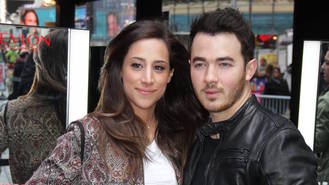 Singer Kevin Jonas is hoping his second child will be a girl because he grew up surrounded by his famous brothers.
The former The Jonas Brothers star and his wife Danielle announced they are expanding their family last month (Apr16), but they have decided not to find out the sex of the baby before the tot's arrival.
They are already parents to daughter Alena, who was born in February, 2014, and while Kevin stresses his main priority is for a healthy child, he confesses he would love to give his girl a little sister to grow up with.
"I've actually always wanted two girls," he said on U.S. personality Nigel Barker's Gentleman's Code radio show. "I just want a healthy baby, to clarify. I want healthy children, but I've always like, wanted two kids that were both girls, and my wife was like, 'Why?' I'm like, 'Because I've been around boys so much my entire life that I want to be surrounded by... girls."
"(Plus we are) having the hardest time with boy names!," he remarked.
Kevin, who is a brother to Joe, Nick, and Frankie, also defended his wife against critics who took aim at her for working out while pregnant, explaining she was active before she was expecting, adding that exercising is "what makes her feel good".
He also addressed the furore new mum Chrissy Teigen faced when she stepped out for a date night with husband John Legend shortly after the birth of their daughter Luna Simone last month (Apr16).
"It's no one's place to make comments on how you live your life, and you know what, no one even knows whether it was with a nanny, whether it was a babysitter," he added. "It doesn't matter who the baby was with. It's not your responsibility to comment on parenting for others. I would hate if someone did that to me."
Source: www.msn.com
Added by AutoAdmin
608 views