News
Chris Brown's ex can't say anything 'positive' about him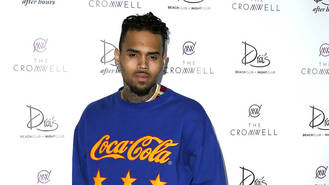 Chris Brown's ex Nia Guzman reportedly "can't say anything positive" about co-parenting with the star.
Chris was revealed to be two-year-old Royalty's father a year ago, but Nia say Chris always knew his daughter existed, but only chose to go public with it when he was ready.
In a revealing interview with Latina magazine, the model shared: "Well, the world didn't find out about her until a year ago. He always knew about her, he just wasn't ready to deal with the situation. But, it's been quite the experience. I can't say anything positive about it… at all. Nothing positive."
The pair have been locked in a bitter war of words after Chris raged over pictures of Royalty dressed in a tutu posted on Nia's Instagram page with the Run It singer accusing her of trying to "sexualize" the toddler. "It's crazy to me that a parent would be OK dressing our daughter like she 16. I ain't cool with that. She is 2!!!" Chris wrote under the picture.
"I mean the fact that I had just spoken with him. He had already seen a video of her on her way to ballet class. To make that remark online, was totally insane to me. Because I have a phone. I have a phone, and I tried over and over and over to co-parent, to try and get this right," explained Nia.
"She always dresses like that to dance class... It was a funny moment, and she was leaned back looking at me because she was totally p**sed off, because it was time to go... but she didn't want to leave."
Nia admits that after his comments relations are strained: "When it's that far, it's just rather nobody talks because me and him are both firecrackers, and then nobody gets anything accomplished but yelling. And it's just a place that I don't want to be."
The mother-of-two also clarified she had not tried to reduce his access during a recent court visit. Instead she had gone to court to request that Brown hire a nanny for their daughter.
"I didn't go back to court to limit his time, at all... What's in place right now, his days that he gets her, was agreed upon.... It wasn't court ordered or anything like that... all I wanted was a set nanny in place... She's only two, and she's a lot of work. I just wanted a nanny in place when she was with him, and it be agreed upon," she explained.
The Loyal singer recently disputed reports he had been kicked off a private jet for smoking marijuana on the way to the Cannes Film Festival last week (ends22May16).
Source: www.msn.com
Added by AutoAdmin
578 views