News
Nick Jonas: 'I was angry with Demi Lovato for quitting Jonas Brothers tour'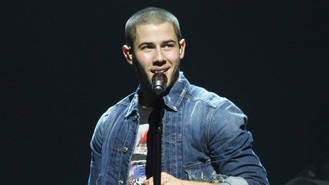 Pop star Nick Jonas feared he and his brothers would be sued after Demi Lovato quit the Jonas Brothers tour in 2010.
The stars were in the middle of a joint tour when Demi, 23, punched a dancer in the midst of her battle with drugs and alcohol.
The singer immediately quit the run of shows, with seven dates left to perform, to seek help, and Nick still remembers how he felt when the whole situation kicked off.
"(I thought) we were going to get sued. I mean, it was bad," he told Billboard. "On top of losing a friend, we have seven dates left, it's a big production, people are expecting to see Demi and that's not going to happen. I was angry, because a week before I pleaded with her to confide in me. We talked on the plane for two hours."
Demi has since been open about her battles with substance abuse, as well as self-harming and having an eating disorder, but in the joint interview, the star admits she can't remember Nick reaching out to her mid-flight.
"To be totally honest, I don't remember that," she confessed. "It's unfortunate I had to go through that stuff in order to appreciate what I have in front of me. I distanced myself as I was getting involved with self-destructive things. After treatment, I had to have some time sober before I wasn't embarrassed to talk to him. Nick says I sent text messages, but I don't remember s**t."
After a couple of years of estrangement as Demi worked hard to get back on track, the pair finally reconciled in 2012.
"The first time we saw each other since that tour was my (2012 Los Angeles) concert at The Greek (Theatre)," she continued. "We caught up right before the show, then performed. It was an emotional reunion - I got one of my best friends back."
The best pals have since joined forces again for their ongoing Future Now Tour.
Source: www.msn.com
Added by AutoAdmin
326 views