News
Niall Horan lands first magazine cover since One Direction hiatus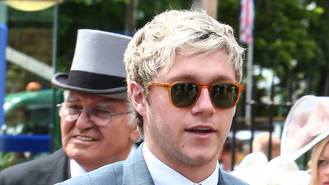 Singer Niall Horan has graced his first magazine cover since One Direction began an 18-month hiatus, appearing in Today's Golfer.
The Irish hunk is a huge fan of the sport, and has devoted a lot of his downtime since the boyband decided to take a break to it, and during his chat with the publication, Niall admitted golf has helped him deal with the pressures of being in the group.
"When I was on the road with One Direction it allowed me to escape the hotel for a few hours and relax," he said. "Harry (Styles) and I used to play a fair bit and travelling so much has allowed me to play some amazing courses all over the world.
While former bandmate Zayn Malik is pursuing a solo career and a relationship with model girlfriend Gigi Hadid, and Harry is making a move into acting by landing his first Hollywood role in Christopher Nolan's World War II drama Dunkirk, Niall has made a much more sedate choice for his post-boy band career by dabbling in golf talent management.
"I love it. I'm obsessed with it, to be honest," he said. "I watch an awful lot of golf on the TV. I love all the stats and when they break down swings. I can tell you who's top in greens in regulation, driving distance and stuff like that.
"I'm a bit of an anorak, but I find it all very interesting."
Niall has been rumoured to be embarking on a solo career of his own, but recently revealed there was nothing concrete in the works.
"I've been in the studio writing bits and pieces. Nothing is really in the pipeline in particular, just keeping the mind ticking over and doing what I like," he admitted to Britain's Hello! magazine. "I've always been into the writing and trying out different things musically. I've made relationships with a few writers over the years so it's been good calling them up saying, 'Do you want to write?' Then popping into the studio. I haven't done much, about five sessions maybe. I've just been chilling out."
Source: www.msn.com
Added automatically
830 views