News
John Legend angrily responds after Philando Castile shooting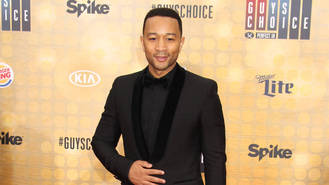 John Legend has expressed his anger over the shooting of Philando Castile.
Castile, 32, was shot by police when he was pulled over for an alleged broken rear light on Wednesday night (06July16) in Falcon Heights, Minnesota. His girlfriend Diamond Reynolds recorded the aftermath on Facebook Live, revealing that the officer asked to see Castile's identification and at that point, he told them he was carrying a licensed weapon.
As he reached for his wallet, Castile was reportedly shot four times, while Diamond's daughter was also present. Documenting Castile as he battled for his life, Diamond told the camera: "Oh my God, please don't tell me he's dead. Please don't tell me my boyfriend just went like that."
Facebook later removed the video, but countless celebrities took to social media to comment on the shocking incident, which occurred just 24 hours after the shooting of 37-year-old Alton Sterling by officers in Louisiana.
All Of Me singer John is usually known for his calm demeanour, but he couldn't hide his anger in a serious of impassioned tweets after learning of Castile's death.
"We should not have to jump through hoops to prove black people shouldn't be shot by police during routine traffic stops," he wrote on Twitter.
"We have f**king video proof and some of you still are all 'well, uh, he shouldn't have moved his left leg so provocatively'. So many people work so hard to find a reason why executing a human being during a routine traffic stop is ok. IT'S NOT OK."
Many other celebrities have also taken to social media to comment on Castile's death.
Ne-Yo commented: "Another day, another hashtag. You didn't deserve this, brother. You didn't deserve this. #PhilandoCastile."
While singer Josh Groban wrote: "There are so many broken, backwards issues at play here it's numbing to digest. #PhilandoCastile #AltonSterling #blacklivesmatter."
Meanwhile, Orange Is the New Black actress Danielle Brooks tweeted: "How is it before I lay down to sleep it happens again. #FalconHeights I HAVE NO WORDS."
Source: www.msn.com
Added by AutoAdmin
380 views