News
Gwen Stefani reverts back to maiden name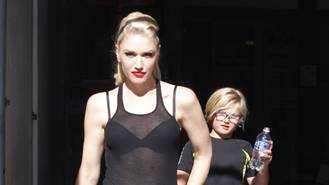 Gwen Stefani has legally reverted back to her maiden name following her divorce from rocker Gavin Rossdale.
The No Doubt frontwoman split from the British singer last summer (15) after 13 years of marriage, amid allegations of Gavin's infidelity.
Their divorce was finalised in April (16), and now Gwen has officially changed her last name back to Stefani, after previously choosing to go by Gwen Rossdale in her personal affairs following their 2002 wedding.
The request was formally approved by a U.S. judge last week (ends01Jul16), reports TMZ.com.
The news emerges on the same day the blonde beauty's candid interview with Harper's Bazaar magazine hit headlines, after admitting the bombshell end to her fairytale marriage had had a life-changing impact on the star.
"My dreams were shattered," Gwen shared. "All I wanted my whole life was to have babies, be married, like what my parents have."
The singer's parents are about to celebrate their 50th anniversary.
Gwen also bemoaned having to strike a custody deal over the former couple's three sons, Kingston, 10, Zuma, seven, and Apollo, two, as a result of the split.
She said, "It was so insane because not only did my family break up, but then my kids are taken away like half the time, so that was really like, 'What?! What did I do?'"
She has since found love with her fellow The Voice U.S. mentor Blake Shelton, and she is grateful to have a shoulder to cry on after he also ended his marriage to fellow country star Miranda Lambert.
Gwen, 46, explained, "It was like being handed this gift of a friend who was going through the exact same thing at the exact same time."
"It's crazy the support and love I've felt," she added of the public's warm reaction to their whirlwind romance.
Blake has also openly gushed about his newfound happiness, revealing in a separate interview that the blossoming relationship helped him bounce back from "rock bottom", after going public with his break-up last July (15).
"My marriage fell apart," the 40-year-old told U.S. talk show host Chelsea Handler, as he addressed his romance with Gwen. "To find out she's going through the exact same thing at the same time... All this has to be meant to happen."
And asked if Shelton is the happiest he has ever been, he quickly responded, "No question about that. Absolutely no question."
Source: www.msn.com
Added by AutoAdmin
379 views