News
Beyonce: 'No violence will create peace'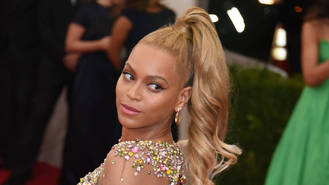 Beyonce has paid tribute to the five police officers killed during a night of violence in her native Texas.
The Formation singer has joined the growing list of celebrities who have been left sad and outraged by the latest events in the conflict between African-Americans and white cops, sparked by the deaths Alton Sterling and Philando Castile in Louisiana and Minnesota last week.
Their deaths at the hands of cops sparked protests in cities across the U.S. on Thursday (07Jul16), and one peaceful protest in Dallas turned violent when a sniper began opening fire on officers monitoring a Black Lives Matter demonstration. Five police officials were killed, while seven others were left injured.
Following the deaths of Sterling and Castile, Beyonce addressed the police brutality issue by posting a call to action on her website and later led a moment of silence at her Glasgow show in Scotland, while projecting the names of dozens of alleged victims on a large screen during an a cappella version of her track Freedom.
And after the cops in Dallas were killed, Beyonce, who hails from Houston, wrote yet another emotional post on Instagram, sharing a black and white video of the Texas flag, as the names of the slain officers flashed on the screen.
She shared her sadness in an accompanying caption, writing: "Rest in peace to the officers whose lives were senselessly taken yesterday in Dallas.
"I am praying for a full recovery of the seven others injured. No violence will create peace. Every human life is valuable. We must be the solution. Every human being has the right to gather in peaceful protest without suffering more unnecessary violence. To effect change we must show love in the face of hate and peace in the face of violence."
Her husband Jay Z also responded to the deaths by sharing a previously unreleased track in protest of the police shootings.
In the track titled Spiritual, he relates the feelings and fears of a black man living in the United States, with a chorus that contains the lyrics, "Yeah, I am not poison... just a boy from the hood that got my hands in the air in despair don't shoot."
In addition to Beyonce and Jay Z, many stars are demanding systematic change, including John Legend, Queen Latifah and rappers Snoop Dogg and The Game, who led a peace rally in Los Angeles on Friday (08Jul16).
Source: www.msn.com
Added automatically
796 views