News
Clean Bandit in awe of Sir Elton John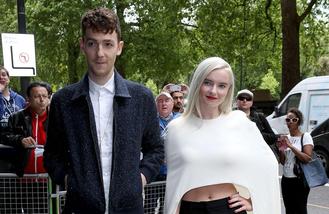 Clean Bandit were amazed by Sir Elton John's piano playing skills when they were recording tracks together.
The 'Rather Be' hitmakers have joined forces with the legendary singer on a song for their forthcoming second album and have admitted they're in awe of his talent because he's just so quick and thorough.
Speaking to BANG Showbiz, cellist Grace Chatto said: "There's loads of really diverse singers on the next album actually. There are different singers on every track. One of my favourites is Labyrinth. That was a really amazing experience and then another but very different singer is Sir Elton John. We've been making a few songs with him. He's lovely and just so quick. As soon as we got in the studio he just didn't stop playing piano - even when he was talking to us he was still composing at the same time."
And, although they've managed to secure a number of collaborations for the forthcoming LP, the group - consisting of Grace, Jack Patterson, Luke Patterson and Neil Amin-Smith - don't know when their second album will be released because they're still playing around with different cuts.
The blonde beauty explained: "We're still kind of finishing it off. It's nearly done but at the moment we're focusing on the new single that's gonna come out after 'Tears'.
Meanwhile, the group - who shot to fame in 2010 - may spend the majority of their time together on a tour bus or in the studio but insist they rarely argue because they've had a strong bond for years.
Grace said: "Jack and I used to live in Russia. I studied piano there and Jack studied filming so that's why we make all of our music videos."
Asked how they came up with the name for their band, which recently performed at Isle of MTV Malta, she added: "There was a Russian lady who called my sister a clean bandit and it meant a pure bandit as in a total rascal and we just thought it was a really funny name for the band."
Isle of MTV Malta will hit screens on MTV Music on August 6, 2016, at 9pm.
Source: www.msn.com
Added automatically
606 views