News
Nick Jonas: 'The way to my heart is through my stomach'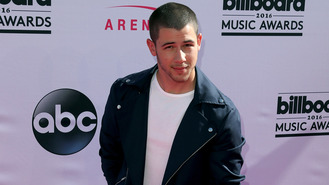 Nick Jonas finds food gestures to be rather "romantic".
The 23-year-old singer's love life has been in the spotlight ever since he and brothers Joe, 26, and Kevin, 28, became a part of sibling group the Jonas Brothers in 2005, with the band eventually splitting eight years later. His former flames include Miley Cyrus, Selena Gomez and most recently Miss Universe 2012 Olivia Culpo, and now he's thought to be single, Nick hints the way to his heart is through his stomach.
"An old girlfriend once surprised me with a picnic of my favourite childhood foods," he smiled to Britain's Cosmopolitan magazine. "That was pretty romantic. I'm a total foodie - whatever city I'm in I try to seek out a cool place to go."
"The biggest thing is finding someone who can travel," he added of his perfect woman. "The most romantic gesture I've made is to fly to someone, just to fly straight back with them, as I didn't have time to share the same city."
Nick's solo career is going from strength to strength, as he's just released his third album, Last Year Was Complicated. His stepping out alone has been a road full of discovery, but luckily there's a piece of advice that he turns to during fame struggles.
"When I was 14, Nick Carter from the Backstreet Boys told me, 'Learn from the mistakes of the people you respect the most, so you don't make the same ones,'" he recalled. "I took that on."
One mistake Nick can't undo is his old haircuts, admitting there's a few he wishes he could "delete" from the Internet. The musician isn't ashamed by them though and views every mistake he's made in the past as a way of helping him grow and develop.
Source: www.msn.com
Added automatically
626 views