News
Ellie Goulding's exhaustion is down to insomnia - report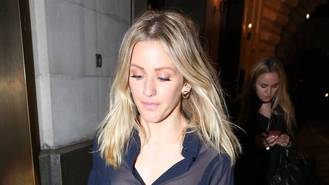 Ellie Goulding is reportedly suffering from insomnia but is hoping to beat it with "exercise and natural remedies".
The 29-year-old singer pulled out of several gigs earlier this month (Jul16) and later told fans it was on doctor's orders as she is battling exhaustion.
Now a source close to the British pop star has revealed that she has been suffering from habitual sleeplessness.
"Ellie's body clock is completely out of sync and she has found herself lying awake in bed most nights unable to get to sleep," a source told Britain's The Sun newspaper.
"All the travelling through random time zones has messed with her system. She just can't get to sleep at night, and even when she's back in England the insomnia is sapping her energy."
While some level of tiredness is expected in Ellie's career, the Burn singer is said to be worried she might not live up to fans expectations if she were to take to the stage while struggling with her insomnia.
She is currently on holiday in St Tropez and is apparently hoping she can soon get back on track and then get back out on the road.
"She's worried about it as she doesn't want to be tired before going on stage," the source added. "She's a professional and wants to give her fans the best performances possible.
"Ellie's had a couple of weeks off now and is hoping she can beat her insomnia through exercise and natural remedies."
Ellie pulled out of the Positivus Festival in Latvia on 15 July (16), followed by Finland's Ilosaarirock Festival on 16 July. She didn't mention what was wrong at the time, but later revealed to Britain's Evening Standard newspaper that she cancelled on doctor's orders.
"I'm a hard worker. I don't cancel anything unless I really need to, but my doctor said, 'Ellie, your voice is going to burn out'. Glastonbury was the point where I realised I was pretty exhausted. It's all good though - I'm feeling really positive about the rest of the year," she told the British newspaper.
Ellie's next scheduled performance is on Sunday (31Jul16) at Lollapallooza in Chicago's Grant Park as part of her Delirium World Tour, which is due to end on 8 October (16) in Melbourne, Australia.
Source: www.msn.com
Added automatically
759 views