News
Selena Gomez, Rihanna, Kendrick Lamar to headline Global Citizen fest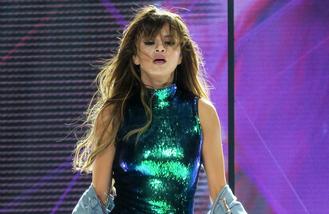 Rihanna, Kendrick Lamar, Major Lazer, Metallica and Selena Gomez will headline this year's Global Citizen Festival in New York.
The non-profit organisation - which aims to eradicate poverty by 2030 - has unveiled a diverse and star-studded line-up for the annual event, which will take place in Central Park on September 24.
And Selena couldn't be prouder to be involved.
She said: "I couldn't be more honored to participate in the Global Citizen Festival as it continues to help solve important issues around the world.
"I am particularly proud to be involved this year as the focus is on education. As an artist with many young fans, I believe everyone has the right to an education."
Other acts who will perform at the festival include Usher, Usher, Coldplay's Chris Martin, Pearl Jam's Eddie Vedder, Ellie Goulding, Puerto Rican singer Yandel and Yusuf/Cat Stevens.
Chelsea Handler, Hugh Jackman and his wife Deborra-Lee Furness, Neil Patrick Harris, Seth Meyers, Priyanka Chopra and
Salma Hayek will host the event.
Salma said: "I am honoured to return as co-host of the Global Citizen Festival. As co-founder of Chime for Change, I've been deeply inspired by the girls and women I have met around the world who are determined to get an education and build a better future. They are truly the agents of change who can help to bring an end to extreme poverty."
'Quantico' star Priyanka added: "The spirit of the Global Citizen Festival is something very dear to me. With the opportunities to travel I've been given through my work, I see the world as an interconnected force - and this festival is an incredible example of the power of looking across our borders, and working together for the greater good.
"I'm very much looking forward to co-hosting this year, with such an amazing group of talent."
This is the fifth year for the event, which sees stars unite to to raise awareness in an effort to urge leaders around the world to enact policy changes regarding women's equality, education, health, water and sanitation, environment, finance and innovation and food and hunger.
The ticket for the festival are free, but admission is granted to those who actively take part in the campaign work via petitions and social media.
Source: www.msn.com
Added automatically
615 views