News
Lenny Kravitz: 'Guns N' Roses are really chilled these days'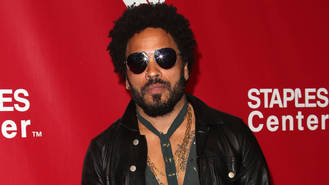 Lenny Kravitz says "chilled" Guns N' Roses no longer party like they used to.
The American Woman singer has just been on tour with the reunited rockers, fronted by singer Axl Rose, guitarist Slash and bassist Duff McKagan, opening their shows in Massachusetts and New Jersey last week (ends24Jul16).
For Lenny, the shows were a personal reunion of sorts, as he went to high school with Slash and has known the other band members since they kicked off their careers. He previously joined them as a special guest during the band's Paris concert in 1992.
"They asked me if I'd come out and do a few shows, so I thought I'd just do it for the fun of it," Lenny told US TV host Seth Meyers on Monday night. "It's great because it's a stadium tour and they haven't been together in 20-whatever years, I was around for the beginning with them, I was around for the heyday and for all the craziness.
"It's really interesting to see them back together, everybody's really chill and they're going on (stage) on time. It's different... They took in a lot more than I did back then, you know what I mean?"
The 52-year-old also talked about his upcoming performance alongside Lady Gaga and DJ Jazzy Jeff at the BB&T Pavilion in Camden, New Jersey on Thursday for the U.S. Democratic convention delegates and invited guests, hours before Hillary Clinton is set to be formally nominated as the party's presidential candidate.
Lenny says that the gig will be "interesting" but he's looking forward to it, as he's enjoyed a long friendship with Hillary and her husband, former U.S. president Bill Clinton.
"(Bill) used to come backstage at the shows... and he had the nerve to grab my sax player's saxophone in the dressing room and start to play it. Thing is, he doesn't know my saxophone player," Lenny laughed of Bill's antics, adding, "Ahhhh, I wouldn't have put my mouth on it personally!"
Source: www.msn.com
Added automatically
652 views