News
Rod Stewart covers The Beatles for Netflix animated series Beat Bugs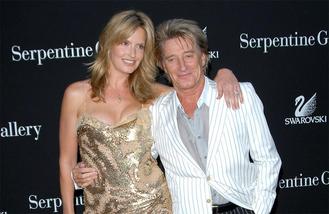 Sir Rod Stewart will cover The Beatles song 'Sgt. Pepper's Lonely Hearts Club Band' for the Netflix animated series 'Beat Bugs'.
The 'Maggie May' hitmaker - who is married to Penny Lancaster - has been announced as one of the artists contributing a track to the new show at a Netflix panel at the Television Critics Association meeting.
As well as Rod, the first season will feature Pink covering 'Lucy in the Sky With Diamonds', Robbie Williams doing 'Good Day Sunshine', James Corden's version of 'I'm a Loser' and Eddie Vedder's rendition of 'Magical Mystery Tour.'
Rod's cover will feature in the second season alongside Jennifer Hudson singing 'I'll Follow the Sun', Regina Spektor's 'And Your Bird Can Sing' and James Bay covering 'Hey Bulldog.'
Netflix announced that a 27-track two-disc soundtrack album for the first season will be released exclusively to Apple Music the day of the show's August 3 premiere.
The first season soundtrack, plus a 'Best Of' compilation of seasons 1 and 2, will be released on CD on 4 November.
The full soundtrack for the show's second season will be released in November 2016. More details on the second season soundtrack will be shared in the future.
The series has been created by Josh Wakely and revolves around five friends - Jay, Kumi, Crick, Buzz and Walter - who band together to explore and learn in an overgrown suburban backyard, which to them is their entire universe.
Speaking to Variety, Pearl Jam frontman Eddie Vedder, 51, said of his involvement: "Personally I'm very grateful to be part of [series creator] Josh's vision. ['Beat Bugs' is] a tremendous show for kids that combines beautiful animation with great stories and obviously some of the best songs ever written."
'Beat Bugs' contributing artists:
Season 1:
Pink: Lucy In The Sky With Diamonds
James Corden: I'm A Loser
Aloe Blacc: Rain"
Robbie Williams: Good Day Sunshine
Eddie Vedder: Magical Mystery Tour
Frances: In My Life
The Shins: The Word
The Lumineers: Honey Pie
Sia: Blackbird
Season 2:
Rod Stewart: Sgt. Pepper's Lonely Hearts Club Band
Chris Cornell: Drive My Car
Regina Spektor: And Your Bird Can Sing
Jennifer Hudson: I'll Follow The Sun
Of Monsters and Men: Eleanor Rigby
James Bay: Hey Bulldog
Tori Kelly: I'm Happy Just To Dance With You
Source: www.msn.com
Added automatically
645 views