News
Zendaya's awkward Beyonce encounter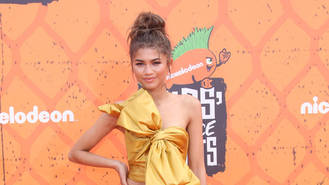 Zendaya was "such a nerd" when she met her hero Beyonce.
The singer and actress may have an A-list career of her own, but that doesn't necessarily mean she keeps her cool in front of fellow stars. In fact, when she first encountered Beyonce, Zendaya admits it quickly turned into a fangirl situation. The pair met while shooting the visuals for the megastar's epic Lemonade album, with the 19-year-old looking totally chilled in the finished article.
"It was literally nuts because anybody who knows me knows that I've been obsessed with Beyonce since birth, been to every single concert that she's ever had. It's a true obsession," Zendaya exclaimed to America's InStyle. "It was an honour and I freaked out.
"When she came and said hi to me… I never lose it that much. I was such a nerd about it."
The California native rose to fame as a teen star on Disney Channel show Shake it Up opposite Bella Thorne, before becoming a pop star. In recent years she's gone back to acting, landing the role of Michelle in upcoming blockbuster Spider-Man: Homecoming. The film marks British actor Tom Holland's first outing as the web-slinging hero, with Robert Downey Jr. popping up as Iron Man in the Marvel reboot.
"Michelle's kind of awkward, quiet, she kind of makes fun of everybody because she's always in a book, always focused on studying. She has these one liners to kind of zing everybody," the star shared at Comic-Con San Diego.
Zendaya will also be starring opposite Hugh Jackman, Zac Efron and Michelle Williams in musical The Greatest Showman on Earth, set for release in late 2017.
Source: www.msn.com
Added automatically
633 views