News
Drake pens emotional letter after Alton Sterling shooting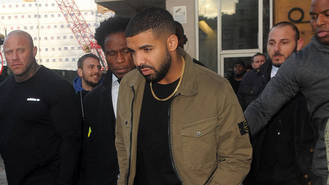 Drake has pleaded for an "open and honest dialogue" between black communities and law enforcement services.
The 29-year-old Canadian singer took to his Instagram page to share an open letter he had written in the wake of Louisiana man Alton Sterling being shot dead by police officers on Tuesday (05Jul16).
Officers were called to a convenience store in Baton Rouge following reports that 37-year-old African-American Sterling, who was selling CDs outside the shop, was threatening someone with a gun.
Graphic footage taken by a bystander shows two policemen tackling Sterling to the ground, and after they allegedly discover he's got a gun, shots can be heard. Sterling died at the scene from multiple gunshot wounds to the back and chest, according to a postmortem examination.
In his emotional letter, Drake told fans he felt compelled to say something after watching the video of Sterling's tragic death, which left him feeling "disheartened, emotional and truly scared".
"It's impossible to ignore that the relationship between black and brown communities and law enforcement remains as strained as it was decades ago," he continued. "No one begins their life as a hashtag. Yet the trend of being reduced to one continues.
"This is real and I'm concerned, concerned for the safety of my family, my friends, and any human being that could fall victim to this pattern. I do not know the answer. But I believe things can change for the better. Open and honest dialogue is the first step."
Drake concluded his letter by offering his "thoughts and prayers" to Sterling's family, and "any family that has lost someone to this cycle of violence."
He signed off by writing: "Be safe out there. More life."
Drake was the latest celebrity to speak out following Sterling's death. Katy Perry shared the video with her 90 million followers on Twitter, writing: "You can't just go on with your day, you must watch this * we must face this continue outrageousness."
Justin Timberlake tweeted: "HAS. TO. STOP. Devastating."
Girls star Lena Dunham wrote on her Twitter page: "Alton Sterling was killed because we refuse to acknowledge the fact that our police forces protect selectively and harm enormously."
Kanye West kept his message simple by sharing the video while writing "Alton Sterling", while actress Chloe Grace Moretz tweeted: "My Heart is broken, thoughts and prayers to #AltonSterling and his family. When is enough, enough?"
And Nick Jonas added: "This is so disturbing and wrong. My thoughts and prayers are with the family and loved ones of #AltonSterling."
Source: www.msn.com
Added by AutoAdmin
411 views