News
Disciples: Calvin Harris' tour rider has lots of health products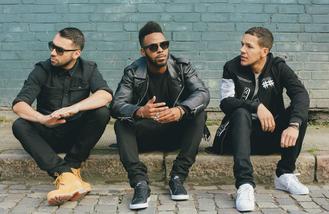 Disciples' Gavin Kool says Calvin Harris' tour rider contains lots of "health-related" items.
The production trio - also comprised of Nathan V Duvall and Luke Anthony McDermott - collaborated with the superstar DJ on the smash hit 'How Deep Is Your Love' and have shared the odd cheeky bottle of Tequila with the hunky Scottish star.
Speaking exclusively to BANG Showbiz, Gary said: "We have shared his tour rider in the past. We have our own one and he has his, but we've shared some tequila bottles in the past that is for sure."
Asked how Calvin's rider compares to their's, he admitted: "Ours has a little more alcohol to be honest. His has more health-orientated products."
Disciples - who recently shared their new single 'Daylight' - will perform for the first time at Reading & Leeds Festivals this weekend and they are going to "pull out all the stops" to ensure they please the crowd.
Asked what to expect from their set, Gavin said: "We haven't played Reading and Leeds before. We are going to pull out all the stops for that one. We will perform 'How Deep Is Your Love' live.
"We have two different sides, we have our DJ-orientated side where we play more cutting edge tech house music like we do in Ibiza. Then we have the more festival-based stuff where we will play a lot of our own music and have live singers."
'Daylight' can be streamed now on SoundCloud: http://bit.ly/2bYTbxh
Source: www.msn.com
Added automatically
712 views