News
Metallica plot extensive tour of America in 2017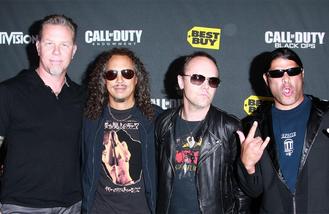 Metallica are to embark on an extensive tour next year.
The 'Nothing Else Matters' rockers show no signs of slowing down as they are planning to cover most of America in support of their forthcoming double LP - entiled 'Hardwired... to Self-Destruct' - in January.
Drummer Lars Ulrich said: "We did 180 shows on the 'Death Magnetic' tour in two-week periods over three years.
"That's what works for us. We're going to start pretty much full-on touring in January and are looking to figure out what we're doing in North America, but there will definitely be some pretty extensive touring in America."
Meanwhile, the 52-year-old sticksman - who is joined by James Hetfield, Kirk Hammett, and Robert Trujillo in the group - has said that until now the band used to take a break between making a record and hitting the road, but they are a different band now.
He told Rolling Stone magazine: "When we made the 'Black Album', we did it six days a week for eight months.
"That's not how we make records anymore. It's this very piecemeal process."
The heavy metal legends haven't done a full tour of America since 2009 and Lars feels now is a better time than ever before to give the US fans what they want.
He added: "It's time to come back and do some proper penetration of America."
The 'Enter Sandman' hitmakers recently debuted brand new single 'Hardwired' for the first at their show at Minneapolis' US Bank Stadium on Saturday night (20.08.16).
Metallica's double album, which is due for release on November 18, is their first release in the eight years since their last record, 2008's 'Death Magnetic'.
The 'Master of Puppets' musicians have said that only a "cosmic reason" could prevent them from releasing the album this year.
Speaking previously, Lars said: "If the record doesn't come out this year, then It won't be because it's not done.
"It will be because there's some sort of cosmic reason that it would be smarter to hold onto it until next year."
Source: www.msn.com
Added automatically
823 views