News
Mel C: 'I will never be a part of Spice Girls reunion'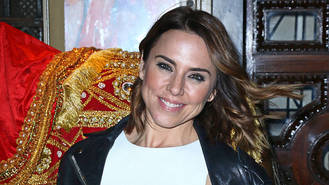 Mel C has officially ruled herself out of the Spice Girls reunion due to take place next year (17).
The 42-year-old, along with Victoria Beckham, have both declined to take part in the Wannabe hitmakers' 20th anniversary reunion in 2017, organised by Emma Bunton, Geri Horner and Melanie Brown.
Now Sporty Spice, real name Melanie Chisholm, has penned an essay for Love magazine explaining her difficult decision to bow out of the lucrative reunion.
Insisting the reunion shouldn't take place without all five members on board, Mel added she believes the band should have called it a day following their performance at the closing ceremony for the London Olympic Games in 2012.
"I'd love to play huge arenas across the world, sing our brilliantly bonkers pop songs and relive our former glory," Mel wrote. "It is of course a very lucrative opportunity too. But we were a five-piece band. Didn't we reach a peak with the Olympics? There's a lot to be said for bowing out on a high note.
"For me, the absolute pinnacle of my Spice existence was being watched by a billion people around the globe belting out Spice Up Your Life on top of a black cab at the 2012 London Olympics. Anything less than the full line-up just didn't feel like we'd be doing justice to the band or the fans."
It was after numerous meetings with Emma, Geri and Mel B she made her difficult decision. "The hardest part for me was letting people down, the girls, the fans, civilisation?! Unfortunately something didn't feel quite right and I had to follow my gut," she added.
The mother-of-one had a brief solo career after the Spice Girls split for good in 2000, but is well aware that her success on her own will never match up to her Spice Girls fame.
"I am under no illusion that my solo work will ever come close to a fraction of the impact that we make as the Spice Girls. I love the band, I am beyond proud of my past and will always embrace and celebrate being a Spice Girl, it's what I am," she wrote.
There have been countless bands who have reunited in recent years following success in the 90s, including Take That. But Mel is of the opinion that the Spice Girls shouldn't be pressured into reforming and should instead be remembered by fans for their incredible achievements.
"I will be a Spice Girl until I die. But the continuous speculation on whether we will reform to celebrate 20 years of Wannabe has been particularly exhausting. But is it a new rule that bands have to reform? Why can't we just be remembered for our incredible achievements in the nineties," she shared.
However, she will support her fellow bandmates, no matter what.
"I love the girls dearly. We have a very unique bond that will never be broken and I will continue to support them all as much as I can," Mel concluded.
Source: www.msn.com
Added automatically
722 views