News
Barry Gibb won't sing brother Robin's songs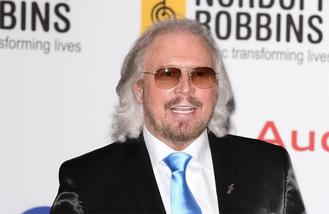 Barry Gibb won't sing his late brother Robin's songs on tour.
The 69-year-old Bee Gees star - who recently released his solo album 'In The Now' - will still perform the hits for fans of the 'How Deep Is Your Love' hitmakers, but he won't be singing the songs which Robin - who passed away at the age of 62 in 2012 after a long battle with cancer - "shone on".
He said: "Of course I will. I will play the songs I love and the songs I sang. I won't sing the songs that Robin shone on because I won't encroach on his territory. There are many songs that I did sing that it is sort of like doing what I've always done.
"The people who listen to our music are just one of a kind. You can't criticise the Bee Gees to them it's totally different. It is an eye opener. "
The British music legend is grateful that he still gets a massive adrenaline rush before going on stage and said he feels the love no matter where he's performing in the world.
He told ET Canada: "I had this enormous rush of joy and love before I start the show when I come on.
"That is a wonderful thing.
"It doesn't matter where I go, it is what these brothers managed to do to people with the music."
Meanwhile, Barry - who recently lost his mother Barbra and is the only remaining Bee Gee following the death of Robin and his brother Maurice in 2003 - previously revealed he sang a song he wrote for Robin to him when he was in a coma.
He told BANG Showbiz: "There's a song called 'End of the Rainbow' that I dedicate to Robin, but for all my brothers [fellow Bee Gee singer Maurice and younger sibling Andy who both died before Robin]. It was very difficult; it was very emotional. It's very difficult to sing without filling up, it's one of those, I'm not sure I could sing it live without becoming very emotional.
"I sang a verse of the song to Robin when he was in a coma, about two weeks before he passed and I don't know if he heard it or not. But I sang it anyway, I'm yet to sing it live and the lyrics reflect what I hope are my correct feelings."
Source: www.msn.com
Added automatically
640 views