News
Fergie's new album will be rockier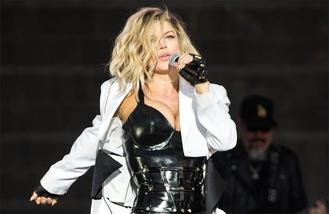 Fergie's new album will feature a "cornucopia of different sounds".
The 'Glamorous' hitmaker has started work on her eagerly-anticipated second studio album and has has teased that she's been mixing up her style and gone for a rockier sound.
Asked what to expect from her next record, she said: "Hmm... I've got a few pieces I'm playing with, but we'll see how much makes it onto the album. It's definitely gonna be a mixture - the album is a cornucopia of different sounds. It's not a full rock album, but there'll definitely be a little bit of that on there. I love doing those songs on stage, though, they're always super fun. It's definitely part of who I organically am, so I like bringing it out on stage."
The Black Eyed Peas star - who has two-year-old son Axl with husband Josh Duhamel - gave fans a taste of what to expect with her single 'M.I.L.F.$', which was accompanied with a sexy video featuring celebrity mums including Kim Kardashian West and supermodel Chrissy Teigen breastfeeding.
And the 41-year-old pop beauty said she was inspired to write the song after being told by producer, Polow Da Don, that she could change people's views on artists who have children.
She also husband assisted with the lyrics by always coming into the room shouting, "The milkman is here".
Asked where the idea came from, she told the latest issue of NME magazine: "It came actually when I was first pregnant. I was working with [producer] Polow Da Don at the time on a 2 Chainz track called 'Netflix'. And Polow kind of crawled in my head and said, 'Fergie, you gonna change people's views of artists who have babies.' I'd never thought of that before, but I don't wanna hide who I am; I'm all about being who you are and owning that.
"And so 'M.I.L.F. $' was my way of doing that with a wink to the audience and being sexual and flirty and fun and a little bit naughty, but with a quirky sense of humour about it. "When I was breastfeeding, my husband would come in and say, 'The milkman is here!' which helped me with the lyrics because all these different milk puns would come into my head. Like, the club in the video is called 'M.I.L.F. Shakes'.
"This song has been marinating, if you will, for about three and a half years now!"
Fergie's new album will be the follow-up to her 2006 debut 'The Duchtess'.
Source: www.msn.com
Added automatically
745 views