News
Justin Bieber calls police over fan at house - report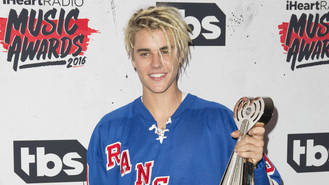 Justin Bieber's security team reportedly called police after a fan waited 12 hours in her car outside his house to meet him.
Security for the Canadian popstar notified authorities after the fan, who had just turned 18, was eagerly waiting for Bieber outside his home in Burbank, California, TMZ.com reports.
The teenager was allegedly there so she could have a photo with the Sorry hitmaker, as it was recently her birthday. Police spoke to her, but because it was a public street, she could not be forcibly moved along.
After she refused to move until Bieber came home, police were forced to inform the singer about the ongoing situation. And Bieber, who has famously refused to take any more photographs with fans, joined cops when they talked to the over-excited fan for a second time.
The teenager was apparently fine with no photograph, as just meeting the 22-year-old was enough. No charges were filed, and she was not arrested, TMZ.com reports.
Bieber wrote a lengthy rant on Instagram back in May (16) after he was aggressively hounded for photographs by fans in Boston. "If you happen to see me out somewhere know that I'm not gonna take a picture I'm done taking pictures," he posted on Instagram, adding that he felt "like a zoo animal."
He also unexpectedly cancelled all meet-and-greets with his fans on his Purpose worldwide tour back in March (16). Bieber made the announcement on Instagram, explaining the interactions leave him "feeling so drained and filled with so much of other people's spiritual energy that I end up so drained and unhappy."
"(I) want to make people smile and happy but not at my expense," he added.
However, it was reported by TMZ.com Bieber's decision to scrap the meet-and-greets was due to a security issue. A potentially dangerous fan, who was allegedly on the 'watch list' for his security team, got close to the singer during the pre-show event. It was also claimed the award-winning pop star was groped by fans and contracted the flu from one encounter, which lead to his decision to scrap meeting his fans.
Source: www.msn.com
Added automatically
616 views