News
Ringo Starr: Beatles would've toured today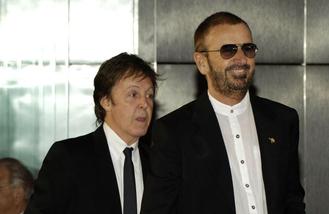 Ringo Starr insists The Beatles would have "got over [their] difficulties" and be touring again if they were still together today.
The drummer in the legendary group - who went their separate ways during the final few years of the 60s - believes the 'We Can Work It Out' hitmakers would have put their animosity to one side and gone on the road again, like the Rolling Stones.
When asked if the group would still be touring today, he replied: "We would. We would have gotten over our difficulties and gotten on the road again."
The Beatles - also made up of Sir Paul McCartney and the late John Lennon and George Harrison - split in the late 60s following the 1967 death of their manager Brian Epstein which led to financial and legal conflicts.
John and Ringo temporarily left the group during the late 60s and all four members were working on solo projects by 1970, the year when Paul publicly acknowledged the group's break up by announcing he was leaving on April 10.
Ringo, 76, admitted the band would've been well paid to go back on tour but they would've done it for the atmosphere rather than the monetary gains.
When asked if the group would've been handsomely rewarded for going on tour again, he added: "Probably. We do it and get paid, but don't do it to get paid. It's all about the gig."
Ringo also blasted established bands for not helping emerging talent nowadays.
When quizzed on whether the challenges for emerging artists is the biggest change since The Beatles began, he told Bloomberg Businessweek: "Yes. I go crazy, because if you want to open for a well-known band you have to pay; management makes you pay. Who is giving back?
"I did a Ringo tour once and had a local band at every gig open for us just to give them exposure. Nobody is helping anybody."
Source: www.msn.com
Added automatically
610 views