News
Tony Bennett wishes for Beyonce duet on 90th birthday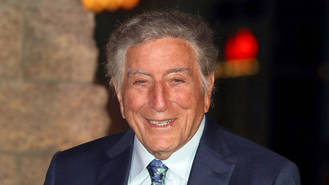 Tony Bennett has just one wish for his 90th birthday - to sing with Beyonce.
The veteran crooner, who marked his age milestone on Wednesday (03Aug16), has worked with some of the biggest names in the business throughout his glittering career, including Stevie Wonder, Aretha Franklin, Mariah Carey, Willie Nelson, Amy Winehouse, the late Natalie Cole, and Lady Gaga.
However, there's one superstar Tony is still hoping to hit the studio with after admiring her from afar.
"I like that Beyonce, she's terrific," he smiles to U.S. breakfast show Today. "She's got a lot on the ball."
Gaga may be able to help Tony set up the dream duet after she teamed up with Beyonce for her 2008 single Video Phone.
The birthday boy is also hoping to add to his body of work with the Poker Face hitmaker, after scoring a Grammy Award for Cheek to Cheek, their 2014 compilation of jazz standards.
The pair is reportedly working on a follow-up project, and Tony really enjoys spending time with the 30-year-old, adding, "I'd like to do something again with Lady Gaga; she's a terrific talent."
Despite his advancing age, Tony has no plans to hang up the microphone, because he is in awe at how popular he remains around the world.
"I'm thrilled about it, I can't even figure it out (why he's still so popular)," he laughs. "I'm always sold out, throughout the world, for whoever I play. It's beautiful."
Discussing the thought of retiring, he explains, "I feel like I have so much more to learn yet."
And keeping Tony's schedule full appears to be just what the doctor ordered: "My doctor keeps telling me, 'There's not a thing wrong with you, just keep going at it'."
"I believe in the fact that it's a gift to be alive," he concludes. "I love the fact that I'm blessed to be on earth, and that my whole life, I love what I do."
Tony's famous friends and collaborators will all come together later this year (16) to celebrate the icon's big birthday in a TV concert special. Tony Bennett Celebrates 90: The Best Is Yet to Come will feature performances from Gaga, Wonder, Franklin, Billy Joel, Elton John, and Andrea Bocelli, among many others. The show will air on America's NBC network in December (16).
Source: www.msn.com
Added automatically
653 views