News
Sharon Osbourne 'proud' of husband Ozzy for admitting to sex addiction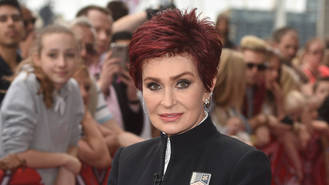 Sharon Osbourne has tearfully revealed she's proud of her husband Ozzy for revealing his sex addiction.
The Black Sabbath frontman, 67, made the shocking admission on the same day his alleged mistress of four years, hair stylist Michelle Pugh, spoke to People magazine about their affair for the first time on Wednesday (03Aug16)
In a statement released to the outlet, the rocker apologised to the 45-year-old and the "other women" he has slept with, before revealing he had started "intense therapy" since the news of the affair first came to light back in May (16).
Just hours after the explosive interview, in which Michelle said Ozzy gave her "the greatest love of my life", and his subsequent statement were released, Sharon, 63, appeared on US TV show The Talk to explain what was happening with her husband in more detail.
"He's (been) going to (an) outpatient (clinic) for sex addiction for the last three months and after the Black Sabbath tour, he goes into inpatient for three months," the mother-of-three explained. "He's working at it. It's hard because it affects the whole family and it's quite embarrassing to talk about."
Sharon believes Ozzy has done the right thing in admitting and accepting his mistakes, and she thanked her friends and family for standing by her during what has been a touch few months.
"I am proud (Ozzy) has come out and admitted it finally. It's very very hard," she continued. "I don't know what I would do without everyone here's support. It's amazing. It's really hard to sit here. It's hard when it's happening to you this far into a relationship. It's been going for six years."
Meanwhile Ozzy has spoken out again about his condition, and apologised to Sharon and his three children, Aimee, Jack and Kelly, for the upset he has caused them.
"Over the last six years, I have been dealing with a sex addiction," he said, according to Us Weekly. "I am mortified at what my behaviour has done to my family. I thank God that my incredible wife is at my side to support me."
Ozzy and Sharon married in 1982, and despite splitting after news of his affair broke, the couple confirmed they had reunited in July (16).
Source: www.msn.com
Added automatically
610 views