News
Slick Rick announces first ever UK tour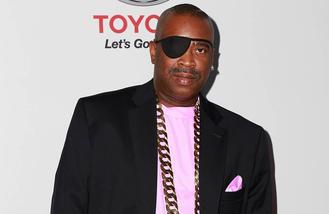 Slick Rick has announced his first ever UK tour.
The 51-year-old hip-hop legend has called the small run of dates the 'Coming Home Tour' as despite living in New York, he was born and raised in Mitcham in Surrey, south east England.
The tour will kick off on November 25 at Mantra in Manchester and will conclude at Brighton's Concorde 2 on November 30.
Slick Rick - whose real name is Ricky Martin Lloyd Walters - is most looking forward to enjoying a cup of English tea and biscuits when he returns to his homeland.
He said: "I'm looking forward to a nice cup of tea and some tasty biscuits."
It will be the first time Rick has been on British shores since he performed on 'Top of the Tops' in 1985 - when he was better known as MC Ricky D - with Doug E. Fresh.
The pair performed Rick's popular hits 'The Show' and 'La Di Da Di', which is the most sampled hip hop track ever, having been sampled over 615 times.
Th forthcoming tour is of significant importance to Rick as it comes following the decision to grant him U.S. citizenship after a battle with the U.S. Immigration Bureau that went on for over 23 years - a period during which Rick could not travel abroad.
However, the Grammy-nominated rapper still retains his British Citizenship.
The 'Children's Story' hitmaker was signed by Russell Simmons and Lyor Cohen to Def Jam Records in March of 1986 and went on to release four albums between 1988 and 1999.
Slick Rick - who has dubbed himself 'Rick the Ruler' - says he is planning something "very special" for the London show, during which he will be accompanied by his DJ Kaos and his singers The Rickettes.
Slick Rick's UK Tour Dates:
Friday, November 25, Mantra, Manchester
Saturday, November 26, 02 Forum, London
Sunday, November 27, 02 Academy, Bristol
Monday, Nov 28, 02 Institute, Birmingham
Tuesday, Nov 29, The Sugar Club, Dublin, Ireland
Wednesday, November 30, Concorde 2, Brighton
Source: www.msn.com
Added automatically
580 views