News
Culture Club to reunite for one-off London gig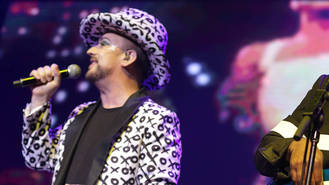 Boy George's band Culture Club will perform a one-off show in London, England in December (16).
The British band, made up of Boy George, Mikey Craig, Roy Hay and Jon Moss, will take to the stage at The SSE Wembley Arena on 14 December (16) to perform hits from their albums Kissing to Be Clever, Colour By Numbers and latest record Tribes.
The four-piece band which was formed by Boy George - real name George O' Dowd - in 1981, achieved Top 10 chart placings in the United States with singles like Do You Really Want To Hurt Me, Karma Chameleon, Miss Me Blind and I'll Tumble 4 Ya.
However they split in 1986 after Boy George, who was also struggling with a drug habit at the time, and drummer Jon Moss fell out. They have reunited a number of times over the years, with their last comeback occurring in 2014.
They have also been touring the U.S., with band member Mikey speaking to The Washington Times earlier this month (Sep16) about life on the road.
"It's been much better than I could have imagined. At the start of the tour, I thought, 'My goodness, are we gonna get through all this? Will George's voice hold out? Will I hold out?'", he laughed. "It's been great for George in particular. His voice is getting stronger as we go, plus his interaction with the fans is really nice as well. He humanises himself much more than before."
And when asked about the the relationship between the four-piece is like now, Mikey responded diplomatically: "Well... As we all say, we are like a rather dysfunctional family that gets together for Christmas dinner. At least now we know which buttons not to press. Some things that bugged you in the past still pop up now and then. But we have a better way of dealing with them now."
Source: www.msn.com
Added automatically
563 views